SWORLD VIỆT NAM
EXPLORE YOURSELF – DISCOVER THE WORLD!
Hello! Sworld Vietnam is a social enterprise working in 2 fields: Culture and Education.
With the slogan: "EXPLORE YOURSELF – DISCOVER THE WORLD", Sworld Vietnam is doing our missions to develop Vietnamese youth's confidence and help them to become global citizens and to learn to preserve our culture and bring the image of Vietnam and its beauty closer to the world.
We have been implementing youth development programs through the format of non-formal education – experiential learning based on the European framework for young people at the age of 10 to 25. Our purpose is to develop English, leadership skills to help Vietnamese youth integrate and become global citizens. Our programs are organized and implemented entirely in English with the participation of International Coordinators from different countries.
Besides, Sworld has organized cultural experience courses for students to introduce Vietnamese culture and beauty to foreign friends.
We currently have partnered with many schools and universities such as Ban Mai School, Genesis School, University of Social Sciences and Humanities, University of Language and International Studies; non-governmental organizations such as Volunteers for Peace Vietnam (VPV), Centre for Sustainable Development Studies (CSDS), AIESEC; and international partners such as Indiana University,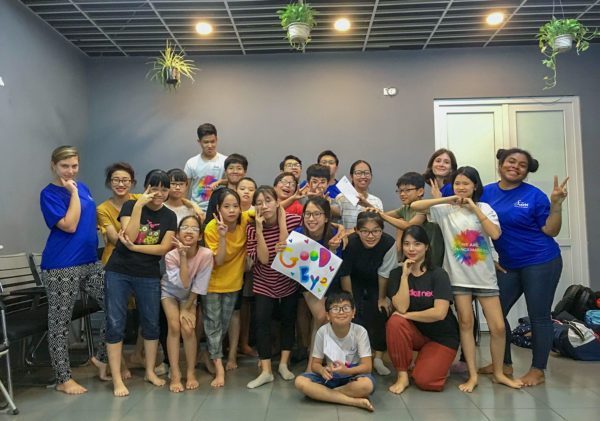 Experiential learning
Creative activity
Non-formal form of education
European teaching format
Become the youth development and training organization through experiential learning with the best quality.
Bring the image and culture of Vietnam closer to the world.

English skills
Teamwork, leading and presentation skills, etc
Self-awareness and self-values development
International cultural exchange
Help Vietnamese youth develop their English proficiency, essential skills to become global citizens.
Preserve Vietnamese culture and bring the image and culture of Vietnam closer to international friends.
Why you should choose Sworld?
Since the foundation of Sworld, we have organized hundreds of programs for Vietnamese youth base on our gained experiences and knowledge and useful teaching models.
EXPERIENCE
We have organized numerous youth development programs at schools and in Hanoi with the team of experienced facilitators.

PROFESSIONAL
Our facilitators have had working experiences with the youth abroad. International facilitators are recruited carefully with full of skills and knowledge.
SHARING
We create an open and diverse space for the youth to comfortably share, be creative and express opinions without the fear of being judged.
GLOBAL
We help Vietnamese youth develop skills to exchange with international friends to become active global citizens, gain more confidence to exchange and integrate with international friends.
"Chúng tôi luôn tâm huyết và đồng hành cùng sự phát triển của các bạn thanh thiếu niên"
Lời nhắn từ đội ngũ Sworld